Ancient and Modern Coins (Lots 1-1141)
Live bidding starts: 05th February 2023, 17:00 CEST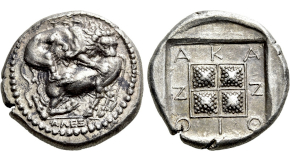 Greek Coins
★ Luster in Field! ★
MACEDON. Akanthos. Tetradrachm (Circa 430-390 BC). Alexis, magistrate.
Obv: AΛEΞI.
Lion right, attacking bull crouching left; olive branch above.
Rev: AKA – N – ΘIO – N.
Shallow incuse square around quadripartite square in relief, the quarters granulated.
Desneux 139 var. (magistrate's name, no branch); cf. HGC 3.1, 385 (unlisted magistrate); Dr. Busso Peus 378, lot 87 (same obv. die).
Condition: Near extremely fine.
Weight: 14.25 g.
Diameter: 25 mm.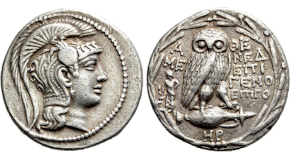 Greek Coins
ATTICA. Athens. Tetradrachm (135/4 BC). New Style Coinage. Mened–, Epigen–, and Epigo–, magistrates.
Obv: Head of Athena Parthenos right, wearing triple crested Attic helmet decorated with Pegasos and floral pattern.
Rev: A – ΘE / ME – NEΔ / EΠI / ΓENO / EΠIΓO.
Owl standing right on amphora, head facing. Controls: to left, Asklepios standing left, holding serpent-entwined staff in right hand; I on amphora, HP below; all within wreath.
Thompson 351d-e; HGC 4, 1602.
Condition: Very fine.
Weight: 16.84 g.
Diameter: 30 mm.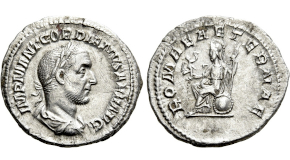 Roman Imperial Coins
GORDIAN I AFRICANUS (238). Denarius. Rome.
Obv: IMP M ANT GORDIANVS AFR AVG.
Laureate, draped and cuirassed bust right.
Rev: ROMAE AETERNAE.
Roma seated left on shield, holding crowning Victory and sceptre.
RIC 4.
Very rare, superb portrait and well centered. Marcus Antonius Gordianus Sempronianus Africanus, better known as Gordian I, was Roman emperor for a few weeks in 238, together with his son Gordian II. Gordian I came from a wealthy family of the equestrian order related to several senators. The name Gordian suggests an Anatolian origin, from the city of Gordius. He had a sister, Antonia Gordiana, who was the mother of Gordian III. It seems that Gordian accepted the empire in old age only on the condition that his son would be associated with it, in order to succeed him. His political career began as Quaestor under Elagabalus and as Praetor and Consul under Severus Alexander. He also wrote an epic poem entitled The Antoninians to celebrate the emperor Caracalla. Gordian commanded the Legio Scythica in Syria. He held the office of governor in Britain in AD 216 and was consul suffectus under Elagabalus. The fact that his name was erased from some inscriptions in Britain suggests that he was disgraced and later rehabilitated. After a rebellion in Africa in 238, mainly because of the exorbitant taxes imposed by Maximinus, Gordian accepted the imperium offered by the army and also the title of Africanus. He entered Carthage acclaimed by the crowd and politicians, while in Rome the prefect of the Praetorians was assassinated. The Senate, happy to deprive Maximinus, accepted the new emperor, and most of the Provinces sided with him. However, Capelius, governor of Numidia and supporter of Maximinus Thrax, invaded the province of Africa with the Legio III Augusta, composed of veterans. Gordian II, was defeated and killed in the battle of Carthage. Following the death of his son, Gordian I committed suicide by hanging himself with a belt, after just twenty days of reign
Condition: Good very fine.
Weight: 3.01 g.
Diameter: 20 mm.
Roman Imperial Coins
★ Good Portrait ! ★
LAELIANUS (Usurper, 269). Antoninianus. Colonia Agrippinensis.
Obv: IMP C LAELIANVS P F AVG.
Radiate, draped and cuirassed bust right.
Rev: VICTORIA AVG.
Victory advancing right, holding wreath and palm frond.
RIC 9.
Ulpius Cornelius Laelianus, also called Lollianus, reigned for only a few months, in 269 AD before being killed. He was a usurper of the Emperor of Gaul Postumus and is included in the list of Thirty Tyrants in the Historia Augusta, but little is known about his origins. Postumus was a commander of the Limes Germanicus who rebelled around 260 and proclaimed himself Augustus after killing the Caesar Saloninus, son of Gallienus. He had created an empire in Gaul with its own senate, consuls and praetorians, with a capital at Augusta Treverorum (Trier) and a mint at Lugdunum (Lyon), which Laelianus also used. In 268, one of Postumus's officers, Ulpius Cornelius Laelianus, rebelled against him by proclaiming himself Augustus in Mogontiacum, in Germania Superior, where the Legio XXII Primigenia was stationed, of which he probablu was the commander. However, his rebellion lasted only two months, then he was beheaded, either by his own soldiers or by the soldiers of Postumus, who were besieging the capital. The siege of Mogontiacum was lethal for Postumus too. He was killed by his own soldiers for refusing to allow them to plunder the conquered city, and was immediately replaced by Marcus Aurelius Marius.
Condition: Near extremely fine.
Weight: 3.21 g.
Diameter: 19 mm.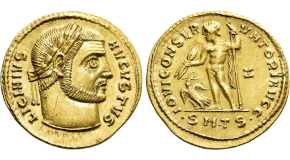 Roman Imperial Coins
LICINIUS I (308-324). GOLD Aureus. Thessalonica.
Obv: LICINIVS AVGVSTVS.
Laureate head right.
Rev: IOVI CONSERVATORI AVGG / • SM • TS •.
Jupiter standing left, holding thunderbolt and sceptre; to left, eagle standing left, head right, with wreath in beak; Σ (retrograde) to right.
RIC 44a; Calicó 5121b.
Condition: Extremely fine.
Weight: 5.22 g.
Diameter: 21 mm.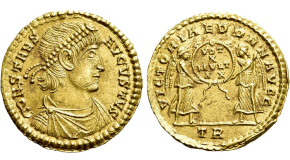 Roman Imperial Coins
CONSTANS (337-350). GOLD Solidus. Treveri.
Obv: CONSTANS AVGVSTVS.
Diademed, draped and cuirassed bust right.
Rev: VICTORIAE DD NN AVGG / TR.
Two Victories standing facing one another, holding shield inscribed VOT / X / MVLT / XX in four lines.
RIC 135; Depeyrot 6/3.
Condition: Extremely fine.
Weight: 4.21 g.
Diameter: 22 mm.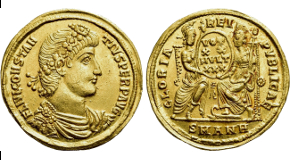 Roman Imperial Coins
CONSTANTIUS II (337-361). GOLD Solidus. Antioch.
Obv: FL IVL CONSTANTIVS PERP AVG.
Diademed, draped and cuirassed bust right.
Rev: GLORIA REIPVBLICAE / SMANH.
Roma and Constantinopolis, with foot set upon prow, seated facing on throne, each holding sceptre and holding between them a shield inscribed VOT / XX / MVLT / XXX in four lines.
RIC 84.
Condition: Extremely fine.
Weight: 4.61 g.
Diameter: 22 mm.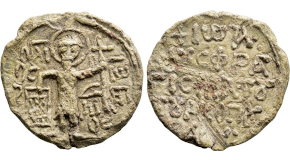 Byzantine Coins
BYZANTINE SEALS. John Tourkopoulos (First half 14th century).

Obv: O AΓIOC Iω ΠMOC.
St. John the Baptist standing facing, holding long cross and inscribed scroll.
Rev: + IωA / NOY CΦPA / ΓIC MA TOY / TOYPKOΠOY / ΛOY (Ἰωάννου σφράγισμα τοῦ Τουρκοπούλου = Seal of John Tourkopoulos).
Legend in five lines.
BZS.1947.2.1337.
Condition: Good very fine.
Weight: 20.84 g.
Diameter: 34 mm.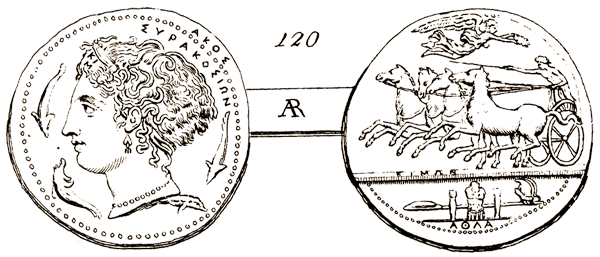 Newsletter
Mit unserem Newsletter werden Sie stets über Neuigkeiten informiert. Verpassen Sie keine wichtige Nachricht mehr! Tragen Sie dafür nur die E-Mail Adresse ein, an die der Newsletter versendet werden soll. Natürlich können Sie den Newsletter jederzeit wieder abbestellen.
Nach Absenden des Formulars erhalten Sie von uns eine Email zur Bestätigung.