Ancient and World Coins (Lots 1-1096)
Live bidding starts: 4th September 2022, 17:00 CEST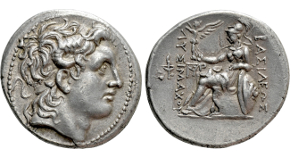 Greek Coins
KINGS OF THRACE (Macedonian). Lysimachos (305-281 BC). Tetradrachm. Magnesia ad Maeandrum.
Obv: Diademed head of the deified Alexander right, wearing horn of Ammon.
Rev: BAΣΙΛΕΩΣ / ΛYΣIMAXOY.
Athena seated left on throne, holding Nike and spear over shoulder, and resting elbow upon shield. Controls: Filleted torch to outer left, monogram to inner left.
Thompson 115; HGC 3.2, 1750e.
Condition: Good very fine.
Weight: 16.78 g.
Diameter: 29 mm.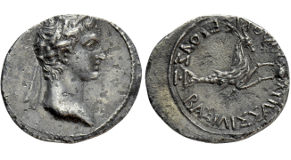 Roman Provincial Coins
KINGDOM OF THRACE. Pythodoris, with Augustus (Circa 8 BC-22/3 AD). Drachm.
Obv: Laureate head of Augustus right.
Rev: ΒΑΣΙΛΙΣΣΑ ΠΥΘΟΔΩΡΙΣ ΕΤΟΥΣ Ξ.
Capricorn with globe right.
RPC I 3803; RG 19; SNG von Aulock 6685.
Very rare.
Condition: Near extremely fine.
Weight: 3.36 g.
Diameter: 18 mm.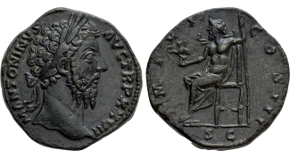 Roman Imperial Coins
MARCUS AURELIUS (161-180). Sestertius. Rome.
Obv: M ANTONINVS AVG TR P XXVII.
Laureate head right.
Rev: IMP VI COS III / SC.
Jupiter seated left, holding Victory and sceptre.
RIC 1064.
Ex Münzen & Medaillen AG Basel 92 (2002), lot 96
Condition: Near extremely fine; attractive patina.
Weight: 23.80 g.
Diameter: 30 mm.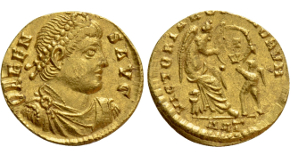 Roman Imperial Coins
VALENTINIAN I (364-375). GOLD 1½ Scripulum. Antioch.
Obv: VALENS AVG.
Pearl-diademed, draped and cuirassed bust right.
Rev: VICTORIA AVGVSTORVM / ANT.
Victory seated right on cuirass, inscribing VOT / V on oval shield supported by a winged genius.
RIC 3b var. (obv. legend).
Extremely rare.
Condition: Extremely fine.
Weight: 1.68 g.
Diameter: 15 mm.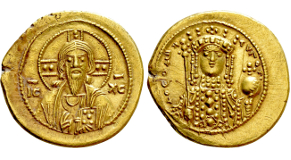 Byzantine Coins
THEODORA (1055-1056). GOLD Tetarteron Nomisma. Constantinople.
Obv: IC XC.
Bust of Christ Pantokrator facing.
Rev: + ӨЄOΔω AVΓOV.
Crowned bust of Theodora facing, wearing loros and holding globus cruciger and jeweled sceptre.
Sear 1838.
Condition: Near extremely fine.
Weight: 4.01 g.
Diameter: 19 mm.
World Coins
POLAND. Nicholas I (1825-1855). GOLD 20 Zlotych – 3 Roubles (1836 СПБ ПД). St. Petersburg.
Obv: Crowned imperial double eagle, with coat-of-arms on breast and on wings; holding sceptre and orb; crown above.
Rev: ЧИСТАГО ЗОЛОТА 81 ДОЛЯ.
Denomination and date.
Kopicki 9465.
Condition: Mint State.
Weight: 3.90 g.
Diameter: 19 mm.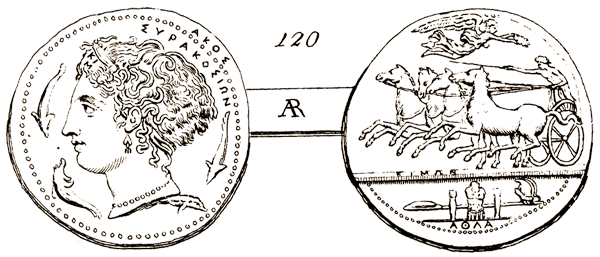 Newsletter
Mit unserem Newsletter werden Sie stets über Neuigkeiten informiert. Verpassen Sie keine wichtige Nachricht mehr! Tragen Sie dafür nur die E-Mail Adresse ein, an die der Newsletter versendet werden soll. Natürlich können Sie den Newsletter jederzeit wieder abbestellen.
Nach Absenden des Formulars erhalten Sie von uns eine Email zur Bestätigung.