Ancient and Modern Coins (Lots 1-1493)
Live bidding stars: 03. October 2021, 17:00 CEST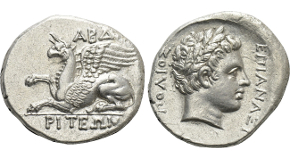 Greek Coins
THRACE. Abdera. Tetradrachm (Circa 336-311 BC). Anaxipolis, magistrate.
Obv: ABΔH / PITEΩN.
Griffin lying left, raising forepaw.
Rev: EΠI ANAΞI-ΠOΛΙΣ.
Laureate head of Apollo right.
May, Abdera 531 var. (arrangement of legend); HGC 3.2, 1211c corr. (magistrate's name).
Condition: Extremely fine.
Weight: 10.98 g.
Diameter: 25 mm.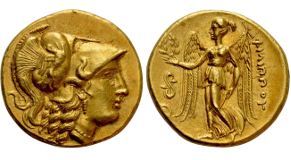 Greek Coins
KINGS OF MACEDON. Philip III Arrhidaios (323-317 BC). GOLD Stater. Lampsakos.
Obv: Head of Athena right, wearing crested Corinthian helmet decorated with griffin.
Rev: ΦΙΛΙΠΠΟΥ.
Nike standing left with laurel wreath in right hand and stylis in left hand. Controls: buckle above monogram.
Price P11.
Condition: Near extremely fine; attractive toning.
Weight: 8.60 g.
Diameter: 19 mm.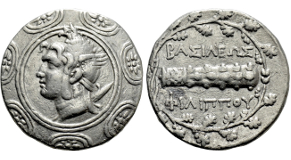 Greek Coins
KINGS OF MACEDON. Philip V (221-179 BC). Tetradrachm. Uncertain mint, possibly Pella.
Obv: Head of Perseus left, wearing winged helmet surmounted by griffin's head; harpa in background; all in the centre of Macedonian shield.
Rev: ΒΑΣΙΛΕΩΣ / ΦΙΛΙΠΠΟΥ.
Club right between legend in two lines; all within wreath right.
SNG Alpha Bank 1051; HGC 3.1, 1056.
Ex Hollscheck, Dorotheum 244 (1961), 448
Condition: Very fine.
Weight: 16.92 g.
Diameter: 28 mm.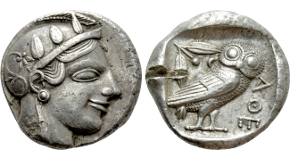 Greek Coins
ATTICA. Athens. Tetradrachm (Circa 465-460 BC). Transitional issue.
Obv: Helmeted head of Athena right, with frontal eye.
Rev: AΘE.
Owl standing right, head facing; olive sprig and crescent to left; all within incuse square.
Starr Group V.A; HGC 4, 1596.
Condition: Very fine.
Weight: 17.17 g.
Diameter: 24 mm.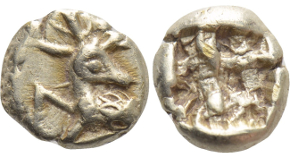 Greek Coins
IONIA. Ephesos. Phanes (Circa 625-600 BC). EL 1/24 Stater.
Obv: Forepart of stag left, head right.
Rev: Abstract geometric pattern within incuse square punch.
Fischer-Bossert, Phanes 37; Konuk & Lorber Fig. 19.
Rare without pellets on obv.
Condition: Good very fine.
Weight: 0.56 g.
Diameter: 7 mm.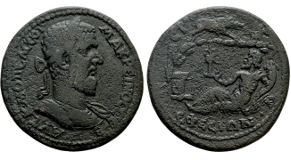 Roman Provincial Coins
IONIA. Ephesus. Macrinus (217-218). Ae.
Obv: AVT K M OΠЄΛ CЄOV MAKPЄINOC CЄB.
Laureate, draped and cuirassed bust right.
Rev: ΠЄΙΩΝ / ЄΦЄСΙΩΝ.
Peion reclining left, holding statue of Artemis Ephesia and cornucopia; distyle temple and tree to left; in background above, tower and boar pierced by spear advancing right (allusing to the foundation myth of Ephesus).
Gitbud & Naumann 7, lot 237 (which realized a hammer of €2,400) = Asia Minor Coins online #11620.
Very rare
Condition: Very fine.
Weight: 22.94 g.
Diameter: 36 mm.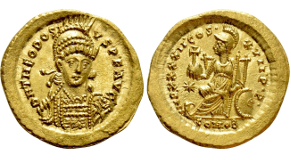 Byzantine Coins
THEODOSIUS II (402-450). GOLD Solidus. Constantinople.
Obv: D N THEODOSIVS P F AVG.
Helmeted and cuirassed bust facing slightly right, holding spear and shield decorated with horseman motif.
Rev: IMP XXXXII COS XVII P P / CONOB.
Constantinopolis seated left on throne, with foot set upon prow, holding globus cruciger and sceptre, and resting elbow upon shield; star to left.
RIC 293.
Condition: Extremely fine.
Weight: 4.52 g.
Diameter: 21 mm.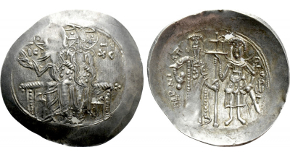 Byzantine Coins
EMPIRE OF TREBIZOND. Andronicus I Gidon (1222-1235). Aspron Trachy.
Obv: IC XC.
Christ Pantokrator enthroned facing.
Rev: Andronicus standing facing, wearing loros and holding anexikakia in right hand, and St. George standing facing, wearing military attire and holding sheathed sword in left hand, both holding long patriarchal cross between them.
S. Bendall, "Andronicus I Gidon of Trebizond Again" in NumCirc CXV.2 (April 2007), fig. 1 = Gorny & Mosch 155, lot 410 var. (rev. legend; same obv. die); NAC 92, lot 1081 = NAC 75, lot 890 var. (same); otherwise, unpublished.
Extremely rare, one of three known of this type
Condition: Extremely fine.
Weight: 3.89 g.
Diameter: 33 mm.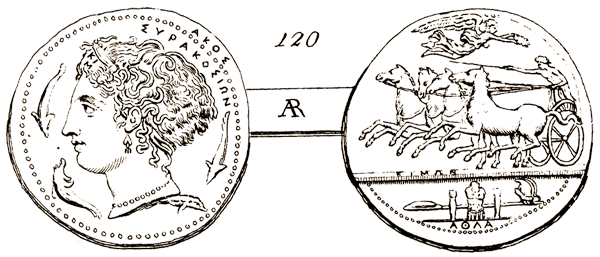 Newsletter
Mit unserem Newsletter werden Sie stets über Neuigkeiten informiert. Verpassen Sie keine wichtige Nachricht mehr! Tragen Sie dafür nur die E-Mail Adresse ein, an die der Newsletter versendet werden soll. Natürlich können Sie den Newsletter jederzeit wieder abbestellen.
Nach Absenden des Formulars erhalten Sie von uns eine Email zur Bestätigung.