Ancient and Modern Coins (Lots 1-1008)
Live bidding starts on 1st November 2020, 17:00 CEST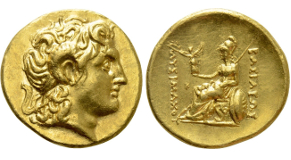 Greek Coins
KINGS OF THRACE (Macedonian). Lysimachos (305-281 BC). GOLD Stater. Uncertain.
Obv: Diademed head of the deified Alexander right, with horn of Ammon.
Rev: BAΣIΛEΩΣ / ΛYΣIMAXOY.
Athena seated left on throne, holding Nike and spear over shoulder. Controls: Monogram K to inner left.
Thompson – ; Müller 465.
Condition: Near extremely fine, traces of mounting.
Weight: 8.50 g.
Diameter: 20 mm.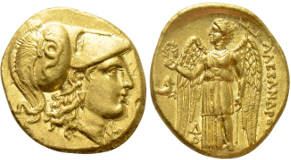 Greek Coins
KINGS OF MACEDON. Alexander III 'the Great' (336-323 BC). GOLD Stater. Lampsakos. Lifetime issue.
Obv: Helmeted head of Athena right.
Rev: AΛΕΞΑΝΔΡΟΥ.
Nike standing left, holding wreath and stylis. Controls: To left, conjoined horse foreparts; monogram below left wing.
Price 1358; HGC 3.1, 893c.
Condition: Good very fine.
Weight: 8.58 g.
Diameter: 19 mm.
Greek Coins
KINGS OF LYDIA. Time of Alyattes to Kroisos (Circa 620/10-550/39 BC). EL Trite or 1/3 Stater. Sardes.
Obv: Head of roaring lion right, with star on forehead.
Rev: Two incuse square punches.
Weidauer 86-9; Traité I 44; SNG Kayhan 1013; SNG von Aulock 2868-9.
Condition: Good very fine.
Weight: 4.75 g.
Diameter: 13 mm.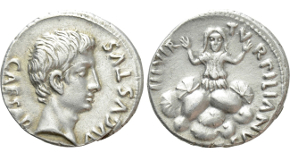 Roman Imperial Coins
AUGUSTUS (27 BC-14 AD). Denarius. Petronius Turpilianus, moneyer. Rome.
Obv: CAESAR AVGVSTVS.
Bare head right.
Rev: TVRPILIANVS III VIR.
Tarpeia standing facing, both hands raised, buried to her waist in shields.
RIC 299.
Condition: Good very fine.
Weight: 3.91 g.
Diameter: 19 mm.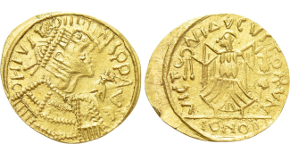 Migration Period
LOMBARDS. Transalpine Area. Pseudo-Imperial Coinage (circa 6th century AD). GOLD Tremissis. In the name of Justin II or Justinian I.
Obv: D H IVST INS P P AVG.
Diademed, draped and cuirassed bust right.
Rev: VICTONI ΔVCVSTORVN / CONOB.
Victory standing facing, head left, holding wreath and globus cruciger.
MEC -.
For a similar issue and style cf. NAC Auction 93, lot 1259.
Condition: Near mint state.
Weight: 1.46 g.
Diameter: 141 mm.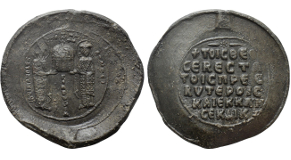 Byzantine Coins
BYZANTINE SEAL. Ekdikoi of the Hagia Sophia (11-12th century).
Obv: Θ (EOTO) KE BOHΘEI IOVCTINIANO (V) ΔECΠ (OTHN) / (HA) ΓI A C E Φ I O.
Theotokos and Justinian I standing facing, holding a model of the Hagia Sophia.
Rev: + TOIC ΘEO CEBECTA TOIC ΠPECBVTEPOIC KAI EKKΛH CEKDIK (OIC).
Legend in six lines above ornament.
Zacos II 70a.
The ekdikoi were a college of priests responsible for the administration of holy sites, and had a further judicial function, in that accused criminals who sought asylum in churches would be judged by them. The office was established by Justinian I, but did not acquire a real presence in the administration of church affairs until the 11th century (wikipedia).
Condition: Extremely fine.
Weight: 177.30 g.
Diameter: 74 mm.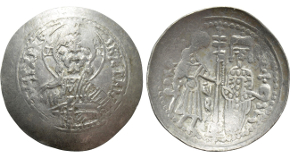 Medieval Coins
KINGDOM OF SICILY. Roger II, with Duke Roger von Apulia, (1105/1130-1154). Ducalis. Palermo.
Obv: IC – XC RC – IN AETRN.
Facing bust of Christ Pantokrator.
Rev: R DX AP – RR SLS / AN RX.
King Roger II and duke Roger standing, facing and holding patriarchal cross.
MEC 212.
Condition: Very fine.
Weight: 2.57 g.
Diameter: 24 mm.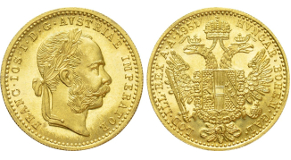 World Coins 
AUSTRIA. Franz Joseph I (1848-1916). GOLD Ducat (1951). Wien (Vienna). Restrike issue.
Obv: FRANC IOS I D G AVSTRIAE IMPERATOR.
Laureate and mantled bust right.
Rev: HVNGAR BOHEM GAL LOD ILL REX A A.
Crowned imperial double eagle facing, with crown above and coat-of-arms on breast, and holding sword, sceptre and orb.
Herinek 184F; Frühwald 1275.
Condition: Mint State.
Weight: 3.50 g.
Diameter: 20 mm.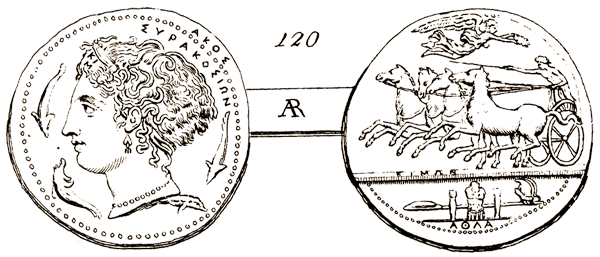 Newsletter
Mit unserem Newsletter werden Sie stets über Neuigkeiten informiert. Verpassen Sie keine wichtige Nachricht mehr! Tragen Sie dafür nur die E-Mail Adresse ein, an die der Newsletter versendet werden soll. Natürlich können Sie den Newsletter jederzeit wieder abbestellen.
Nach Absenden des Formulars erhalten Sie von uns eine Email zur Bestätigung.