Ancient and Modern Coins (Lots 1-1124)
Live bidding starts: 1. August 2021, 17:00 CEST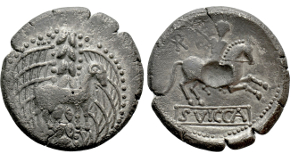 Celtic Coins
CENTRAL EUROPE. West Noricum. Tetradrachm (1st century BC). "Svicca Type".
Obv: Ram standing right, superimposed on laurel wreath with fronds on each side.
Rev: SVICCA.
Horseman right, holding spear; monogram to upper left.
Lanz 146.
Rare.
Condition: Good very fine.
Weight: 6.28 g.
Diameter: 24 mm.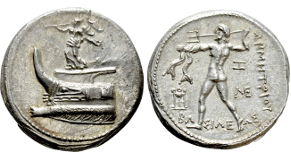 Greek Coins
KINGS OF MACEDON. Demetrios I Poliorketes (306-283 BC). Tetradrachm. Amphipolis.
Obv: Nike, blowing trumpet and holding stylis, standing left on prow of galley left.
Rev: ΒΑΣΙΛΕΩΣ ΔΗΜΗΤΡΙΟΥ.
Poseidon standing left, preparing to throw trident. Controls: Tripod to left, Z and monogram to right.
Newell 94; HGC 3, 1012f.
Condition: Extremely fine.
Weight: 17.26 g.
Diameter: 26 mm.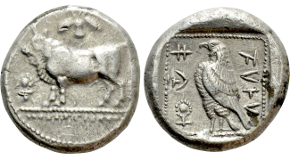 Greek Coins
CYPRUS. Paphos. Stasandros (2nd Half of 5th century BC). Stater.
Obv: Bull standing left; winged solar disc above; ankh to left.
Rev: Eagle standing left within dotted square in incuse square.
Traité II, 24; BMC p. LXIX, note 3 and pl. XXI, 9; Weber 7706.
Rare.
Condition: Good very fine.
Weight: 11.13 g.
Diameter: 22 mm.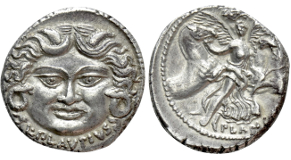 Roman Republic Coins
L. PLAUTIUS PLANCUS. Denarius (47 BC). Rome.
Obv: L PLAVTIVS.
Facing head of Medusa with coiled snakes at either side.
Rev: PLANCVS.
Draped and winged Aurora flying right, leading the four horses of Sol.
Crawford 453/1a.
Condition: Near extremely fine.
Weight: 3.92 g.
Diameter: 19 mm.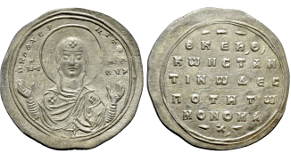 Byzantine Coins
CONSTANTINE IX MONOMACHUS (1042-1055). 2/3 Miliaresion. Constantinople.
Obv: H PΛAXЄPNITICA / MP – ΘV.
Facing bust of the Virgin Mary, orans.
Rev: ΘKЄ B Θ / KωNCTAN / TINω ΔЄC / ΠOTH Tω / MONOMA / X.
Legend in six lines.
Sear 1835.
Condition: Extremely fine.
Weight: 2.15 g.
Diameter: 25 mm.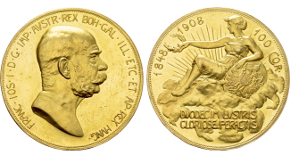 World Coins
AUSTRIA. Franz Josef I (1848-1916). GOLD 100 Corona (1908). Commemorating the 60th Anniversary of his reign.
Obv: FRANC IOS I D G IMP AVSTR REX BOH GAL ILL ETC ET AP REX HUNG.
Bareheaded bust right.
Rev: DVODECIM LVSTRIS GLORIOSE PERACTIS.
The Lady in the Clouds" seated left, holding wreath and resting elbow upon shield.
KM 2812; Friedberg 514; Frühwald 2182; Herinek 317.
Condition: Extremely fine; minor scratches on obverse.
Weight: 33.93 g.
Diameter: 37 mm.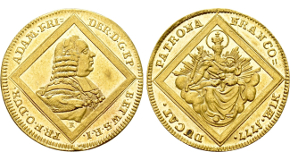 World Coins
GERMANY. Würzburg. Bistum. Adam Friedrich von Seinsheim (1755-1779). Dukat (1777). Würzburg.
Obv: ADAM FRIDER D G EP B ET W S R I PR F O DUX.
Bust right within rhombus.
Rev: PATRONA FRANCONIÆ DUCAT.
Madonna within rhombus.
Fr. 3725; KM 409.
Condition: Good very fine.
Weight: 3.49 g.
Diameter: 22 mm.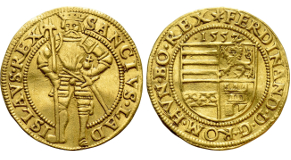 World Coins
HOLY ROMAN EMPIRE. Ferdinand I (1521-1564). GOLD Ducat (1552). Wien.
Obv: SANCIVS LADISLAVS REX.
St. Ladislaus standing facing, in armour, holding axe, sword and globus cruciger.
Rev: FERDINAND D G ROM HVN BO REX.
Coat-of-arms.
Markl 11-21.
Condition: Good very fine.
Weight: 3.53 g.
Diameter: 21 mm.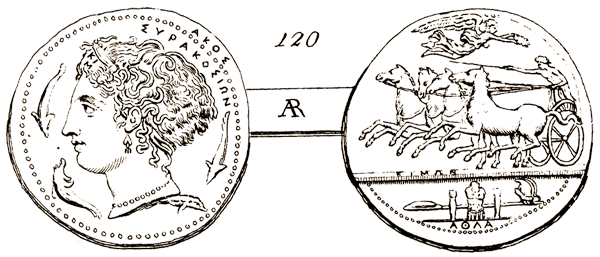 Newsletter
Mit unserem Newsletter werden Sie stets über Neuigkeiten informiert. Verpassen Sie keine wichtige Nachricht mehr! Tragen Sie dafür nur die E-Mail Adresse ein, an die der Newsletter versendet werden soll. Natürlich können Sie den Newsletter jederzeit wieder abbestellen.
Nach Absenden des Formulars erhalten Sie von uns eine Email zur Bestätigung.